Highest quality beysoke mirror glass made to measure supplied and installed
Contact us for Mirrors supplied and Installed in Belfast Northern Ireland- Call us on 02871 357 444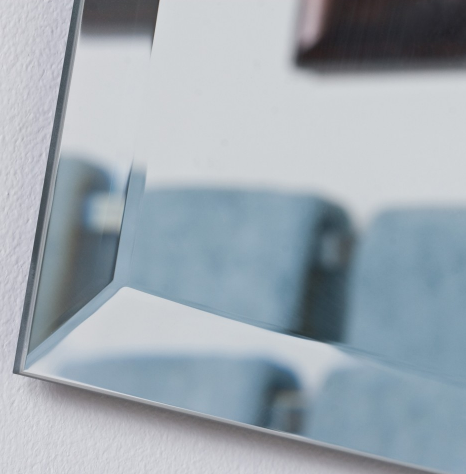 We manufacture our mirrors using the highest quality mirror glass to ensure that our customers receive the highest quality product. This premier product has superior light reflection, excellent resistance to natural atmospheric corrosion (no unsightly black edges and spot faults) and Improved protection to chemical attack from cleaners and certain adhesives than conventional mirrors. We are delighted by the complimentary comments we receive following each installation. For more information on click here for Pilkington Optimirror™Brochures
Glass mirrors cut to size supplied and installed in Belfast Northern Ireland
A custom made mirror can add style and makes any area brighter and appear more spacious. Our beautiful mirrors are made to measure to meet your requirements and we can customize your mirror to offer processing and styles to suit your taste. Add a mirror to brighten up your home

interior. We recommend that all large mirrors such as gym mirrors are 6mm Thick and enhanced with safety backing film so that if there is a chance of injury or impact with free weights then the glass breakage can be reduced and no large shards created, we also have safety glass mirror alternatives available.
A full range of processing and customization of mirror glass.
and deliver throughout mainland UK. Our mirror processing includes CNC In addition, using state-of-the-art machinery we can print any design directly onto the mirror
We can manufacture a mirror for all applications, at our factory we have a full range of processing machinery. We cut and process to your bespoke measurements and requirements. We can supply unique straight and curved bevelled mirrors, cut out and edge work and polishing. We've got mirrors to suit any need, cut to size and shape.
Northern Ireland supply and professionally installed upon request.
Based in Northern Ireland we supply glass throughout Ireland. We supply and install to both home and business user, as well as to the public sector – such as government, local authority, health and educational establishments. Our glass Mirrors have been installed in homes, hotels, schools, hospitals, shops, bars, restaurants, gyms and leisure centres right across Ireland.
We can deliver your glass mirror carefully and securely fit and install your mirror or alternatively give you the tools and advice to safely put up you own mirror at home. Mirrors can be fitted or secured by adhesive or we can drill holes and supply chrome dome head screw.
Safety Glass Mirrors
Our mirrors have the option of an applied safety backing, High specification safety glass conforms to the required British Standard for use in schools, leisure, fitness/gym and dance studios and we also have safety glass mirror alternatives available.
Decourative Glass Mirrors and Antique Mirror glass
We stock Antqiue Mirror Glass and supply to Interior designes and have fitted this decourative glass in bars and fashionable retale outlets in Belfast.
Contact Us
For over 30 years we have been a leading glass supplier and installers of glass and glazing products. Based in Northern Ireland our showroom and factory supply glass across Ireland. We provide a fast and reliable nationwide delivery and installation service, we are in Belfast on a regular basis supplying and Installing glass to all sectors and ranges of customers.
We have expanded and developed both our product ranges and glazing capabilities over the years and now offer our services to all areas of Ireland, the United kingdom and internationally.
Call us today for any advice or guidance you may need about our glass and glazing products.