Highest quality beysoke gym mirror glass made to measure supplied and installed In Belfast
Contact us for gym Mirrors supplied and Installed in Belfast Northern Ireland- Call us on 02871 357 444
Whether it's for motivation or improving form, all good gymnasiums need mirrors.
A large wall mirror is vital to performing correct exorcise form especially if it involves weights. The gym wall mirror provides more coverage, lighting and exorcise assistance. If you're not able to see your form it is very easy to be off which is the leading cause of weight lifting injury. All Purpose Glazing can install a large variety of home gym mirrors at great prices.
APG take pride in our exceptional service, offering a complete fabrication and fitting service. Our mirrors are made with safety in mind, custom made with safety glass film to meet all specifications. We strongly recommend the application of our special safety film backing to protect against possible injury resulting from breakage. This protective measure makes it the ideal choice for applications anywhere in the home where there is a greater risk of accidental damage e.g. doors, wardrobes and children's rooms.
Quality Glass Mirror
We manufacture our mirrors using only Pilkington Optimirror™ to ensure that our customers only receive the highest quality product. We recommend that all Gym Mirrors are 6mm Thick and enhanced with safety backing film so that if there is a chance of injury or impact with free weights then the glass breakage can be reduced and no large shards created, we also have safety glass mirror alternatives available.
For more information on click here for Pilkington Optimirror™Brochures
From floor to ceiling in a dance studio our gymnasium mirror fitting services can include:
Bespoke and full size mirrors cut to size.
Replacement mirrors
Supply and installation
Mirror safety backing film
Polished Edges.
Holes and screw options for a non-permanent glass mirror option.
Commercial Gym
We offer professional, custom installation for professional gyms and sports halls wall. the Impact and practicality of a gym mirror can now be under appreciated, when you are working out it is important to see each exercise clearly to correct mistakes in posture and execution. We will cut the precise size and shape mirror for your studio to offer a clear reflection.
Home Gym Mirror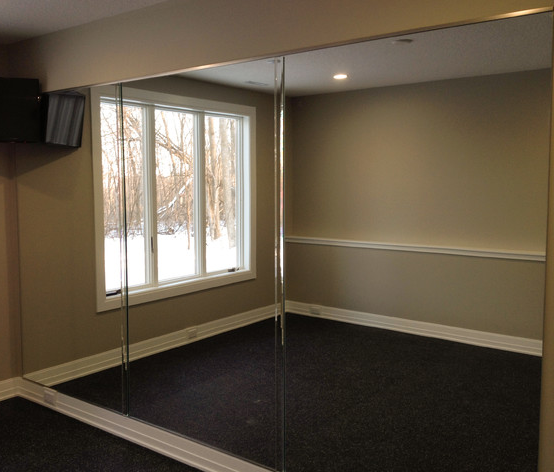 You can transform almost any room in the house into a home gym. Adding a wall mirror for the home gym will improve your workout, enlarge the room and make your home gym complete. with a custom-cut mirror installed. If you need help determining the shape and size of the wall mirror, our experts can help you figure out the exact measurements.
Garage Gym Conversion
Many Customers convert their garage into a gym. To help bring the gym garage conversion to a true gym look and feel a garage mirror is installed. We have many options and ideas to help you bring that space to being a great home gym. No job is too big or too small. Let the professionals install your gym wall mirror.
We are based in Derry City and can supply and install right across Northern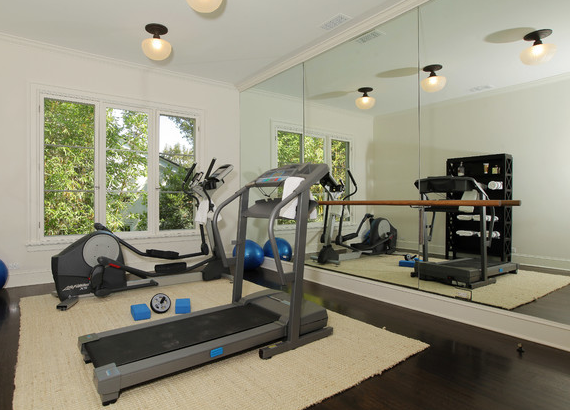 Ireland and Republic of Ireland. Call us today for any advice or guidance you may need.