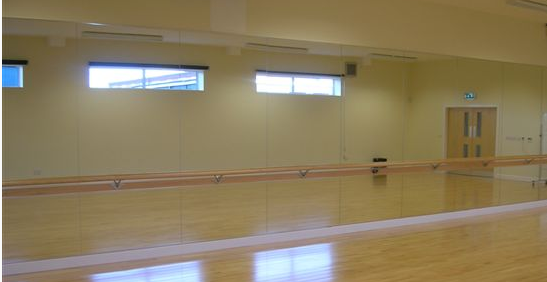 Specified for applications were safety is paramount, perfect for use in gymnasiums and dance studios. we have supplied safety glass to shools and hospitals cross Ireland.
 Mirror Glass Safety Backing Film
An authentic glass mirror with the benifit of a safety film to prevent injury from glass in the event of a breakage. The safety backing is fully tested to BS EN 12600 class 2B2 for frontal impact. The broken mirror pieces stay stuck to the safety backing.
Perspex® Mirror
Made from acrylic this material is idea for applications where  is ideal for use in dance and yoga studios as well as gyms where there is a risk of human impact. Acrylic mirror combines the reflective quality of glass mirror but is 50% lighter. It is also very strong and safe as it doesn't shatter if broken.
Aluminum Composite Panels
a premium quality composite panel made from aluminum composite materials featuring two 0.30mm Aluminium sheets, sandwiching a Polyethylene core.
Why choose us to supply and install your glass mirrors:
With over 30 years supplying glass mirrors  APG have invested in machinery and we keep our over heads low as  glass mirror manufactures we do all our processing, polishing & beveling in house, this gives us the possibility to pass on the saving to our customers. Give us a call or the opportunity to beat our competitors quotes.
In a matter of hours, your room can be transformed just by adding a mirror. This quick, cost-effective way of revitalizing a room adds a touch of elegance and helps create a more open, spacious feeling. Aside from the common uses, mirrors can also be used to create the illusion of space. A large mirror correctly installed can make any room look larger. Whether placed at the end of a hall or angled in a corner of a small room, the result provides the illusion of endless space. We also provide mirror glass replacement and mirror repair.
You'll be impressed by our team of installation professionals who provide the highest level of quality craftsmanship. We keep our scheduled appointments and leave your home clean and neat. We can work off of your technical drawings and product specifications or work with you to provide the perfect solution to your mirror needs.
Contact Us
For over 30 years we have been a leading  glass supplier and installers of glass and glazing products. Based in Northern Ireland our showroom and factory supply glass across Ireland. We provide a fast and reliable nationwide delivery and installation service, we are in Belfast on a regular basis supplying and Installing glass to all sectors and ranges of customers.
We have expanded and developed both our product ranges and glazing capabilities over the years and now offer our services to all areas of Ireland, the United kingdom and internationally.
Call us today for any advice or guidance you may need about our glass and glazing products.